In order to improve the environmental protection consciousness, and popularize basic knowledge of environmental protection, warning of the current situation of environmental protection under the great importance to and strengthen the importance and particularity of environmental protection, "six. Five world environment day" on the same day, the municipal environmental protection bureau in front of the municipal party committee organization to "spread of low carbon consciousness, advocating green life" as the theme of the publicity and education activities, our company has sent five staff uniform took part in the activities, activities of the company environmental protection department is responsible for the satellite to keep up with, miki also attend a booster activities.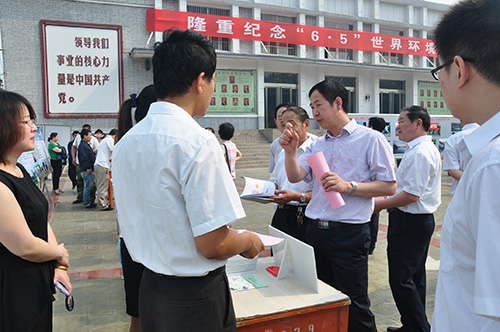 At 8 a.m., the official campaign kicks off.Activities include display boards, photography exhibition, ten thousand signatures to answer, consultation, etc.Event people, very lively.My company staff before their own panel, colorful to to watch, the leadership of the citizens to introduce my company in pollution prevention, energy conservation and emissions reduction and so on a series of measures and achieved remarkable achievement, and positive to past personnel issuing company brochures and promotional color pages, or to the front of the other stands to collect environmental management experience of other units, such as environmental protection laws and regulations propaganda knowledge information.At around 10 am, end of activity.
Companies to participate in this activity, not only effectively shows my company's environmental protection concept and concrete practice, and thus promote our corporate image, but also let us know about the country's environmental regulations and latest information and reference to other units in the field of environmental governance desirable practice, for our enterprises how to further carry out environmental protection laws and regulations, protect the environment will play a positive role in promoting.