Red lanterns hanging high, festive drums blaring.In farewell, 2013, 2014, celebrates its group in a period of the fifth floor conference room held a boisterous welcome party.The party after the celebration dance festival special twisting yanko dance, red pulled open heavy curtain.Group leader Ma Zijiang, Li Gongbing, Ma Jianfu, li-qin guo attended the party scene, at the same time, the park part, head of the company also was invited to the party.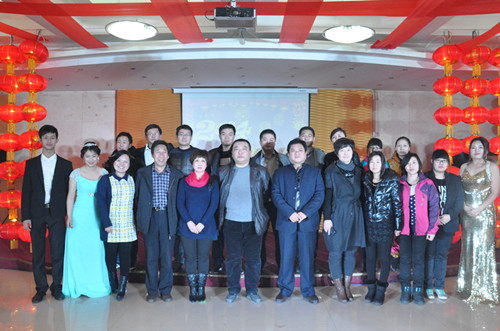 The party Ma Zijiang President made a passionate speech.He pointed out that over the past year, we earnestly implement early establishment of the "clear up the thoughts on the premise of fully understanding the past, and to find the basis of accurate positioning, with management as the center, efficiency as the goal, to improve the work style as the breakthrough point, the firm faith, foster strengths and circumvent weaknesses, highlight key, the whole advancement, to third in Shanxi Province and the central and western regions to create a first-class modern logistics leading enterprises," the guiding ideology, constantly pioneering spirit, innovation, in the business model to achieve the new breakthrough, achieved great growth in business volume.For the New Year, we will be the new action in the business, bringing in the new development opportunity, for all of us should further strengthen confidence, unity is strength, continue to work hard, achieve new development strategy.In the New Year, his leadership on behalf of the group to wish you joy at this holy season family happiness, happy life and everything goes well.

Since then, write and play by employees one by one program, attracted everybody's attention.This gala show, with singing, dancing, and crosstalk, drama, stick fencing, boxing, instruments and other types.Saw the handsome young lady, "Arab night", the little road lamps, jilt onion, rumba dance dance music and electronic organ solo "Canon" let a person enchanted, beautiful song "goodbye", "fragrance" to let a person warmth, two safety supervisor stick fencing and boxing ruan let a person admire, "sell", crosstalk "I this lifetime", play "try to play", "the little people dance" humor funny to make people laugh, engineering, department of legal affairs, development of chorus "we walk on the road" and operations management department, the joint supervision supervision, phase ii office to bring the chorus of "China red sun never set", "the people pulling open a great ship" high, and finally make the party was a climax after another.

Welcome party, is an important part of the group enterprise culture is the spirit of the late dinner every year.Party this year, more than usual, more innovation, more improve program quality, it condensed the us the wisdom of the masses of staff, fully shows the unity, combative spirit, will push our strategy in the new journey on horse pentium, record!