In order to meet the new situation, the company based on a bonded logistics center platform, the implementation of strategic adjustment, to achieve rapid development brought about by the higher requirements for quality staff etiquette, on November 22, 2013 in the afternoon and evening, the company in a period of five floor held a special meeting room, strong practical etiquette training project.Training sponsored by the office of group, who keep up with the director, group President Ma Zijiang performance in training and made important speech, the other group leaders Li Gongbing, li-qin guo also took part in the whole training, etc.This training group office, the market one, two department, finance department, development department, the ministry of commerce, supervision supervision, capacity coordination department, safety supervision department, network information center, measuring class such as more than 60 people.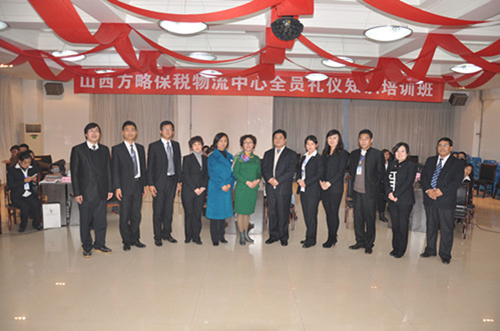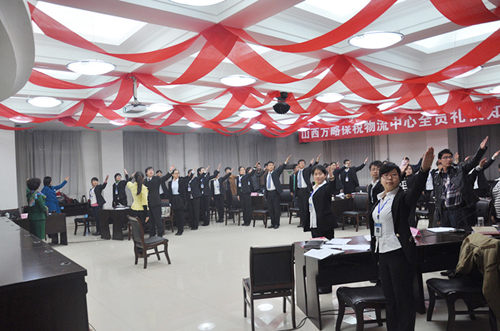 Was invited to act as the communication center etiquette training task is a new horizon of senior etiquette training division, international registration of IPA international registration etiquette expert committee honorary member of the trainers, China's national network professional talent professionals, chief gold etiquette training division, trainer, has more than ten years training experience of ms wen-ping Chen and his team of two elite.
Training lasted five hours, is divided into temperament accomplishment, business communication, business scenario application papers to three parts.Temperament cultivation article mainly teaching staff how to grooming and manners of management, multiply your self-worth.Business communication article mainly teach oral written, telephone, network, communication and other different types of communication skills.Business application scenario article mainly taught in different occasions, such as office, business, public, how we use etiquette in the service of our relationships, in order to get the best communication effect.Training content is wide surface, large volume, although the time is limited, but the team by training the teacher's efforts are expected results have been achieved.
Into the training site, the teachers dress up beautiful and pure and fresh, smiling, and attacks.Training, teacher Chen elegant, soft talk slow, clear and vivid, humorous, show pictures, video, atmosphere vogue, team mate's role playing is the tacit understanding is fluent, accurate and easy, and interactive process real and warm field personnel, especially the last teach you manners hold, will all kinds of etiquette posture achieve mastery through a comprehensive, make everybody in the personal experience of the full digestion and absorption of knowledge.
Though when the early winter chill thick, but it's great pleasure training site, heat surplus, overflowed with passion and joy, all in high active learning atmosphere have mastered many practical strong social etiquette knowledge and skills, also increase the mutual understanding and communication.
President ma on the pointed out that when the training in today's rapid development group, each employee is very important to raise their professional quality, its image is the enterprise of the brand, to improve their literacy must learn and use good etiquette knowledge.The special training, the teacher taught well, everybody also learn seriously, the already set up the business respect consciousness, pay attention to professional ethics, and improve the business skills, the purpose of will in the future business activities of a great help.