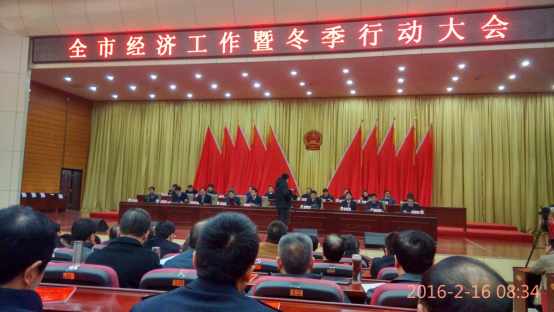 Houma city's economic working and Winter Operation conference had held up
In the morning of February 16, 2016 ,Houma city's economic working and Winter Operation conference was held in the Government Conference Center. Group supervision Minister Wei Genshang behalf of the Group Audit Department attended the meeting.
At the meeting, the Fanglue Group was awarded the 2015 annual Houma-commerce projects building advanced units Honor. Over the past 2015, facing the downward pressure on the economy, the group leadership to lead all the staff to tackle tough, tempering the Endeavour, clutching the opportunity of supply side reform , persist in implementing the "Two Wings" strategy, make innovation and transformation initiatively, launched a series projects like foreign goods pier , foreign goods trading street, National top-class freight railway crossings, cross-border e-commerce countries comprehensive experimental zone, so as to adapt to the new economic normality, leading a new development, ensuring a contrarian on the Group's work and steady progress, and economic and social development in Houma City "3-3"strategy to achieve the and make its due contribution.